"I'm Sophia Parsons Cope (@Soufex on twitter), a British migrant living in Melbourne, Australia. I make heaps of things, but mostly comics/zines and illustrations. I also co-organise the All Star Women's Comic Book Club, a monthly social group for

female

comic fans."
What do you do? (Write, draw, edit, publish, promote etc.)
I do pretty much everything! Self-publishing and creating independently gives you a lot of freedom to do whatever you want. I'm starting to collaborate with other creators, though.
How did you get started doing that?
I've been drawing basically forever, and I'd made little books and webcomics and stuff when I was younger. I had this whole plan to go to art school and end up doing… something or other, professionally, but the best laid plans of mice and men, you know. I spent a long time still drawing in my free time and never quite getting things off the ground. When I moved to Melbourne- specifically, when I moved to Brunswick- there's this
comics studio down the street
that just opened and I started spending time there and hanging out with the people who worked there and it lit a fire under my backside. I quit my full time job at the end of 2014 and pretty much dived head first into making things for a living. It's been very difficult but very rewarding.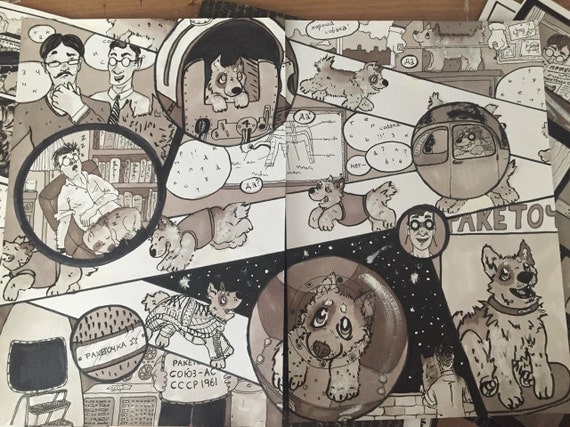 What was your first comic? Why that one?
Okay, story time. I used to live way out in the countryside, but I had an older friend who lived in the city and used to work in a comic book shop, and she sent me shoeboxes stuffed with comics and posters that she was trying to get rid of. There was a lot of variety in there, a lot of 90s and very early 00s stuff in there. Before that I'd read maybe a couple of X-Men comics, Archie Double-Digest, things like that. So I had this huge trove of stuff to go through, I especially liked Hopeless Savages by Jen Van Meter et al, NYX (a Marvel miniseries) and Out There by Humberto Ramos.
Any current or upcoming projects we can find you on?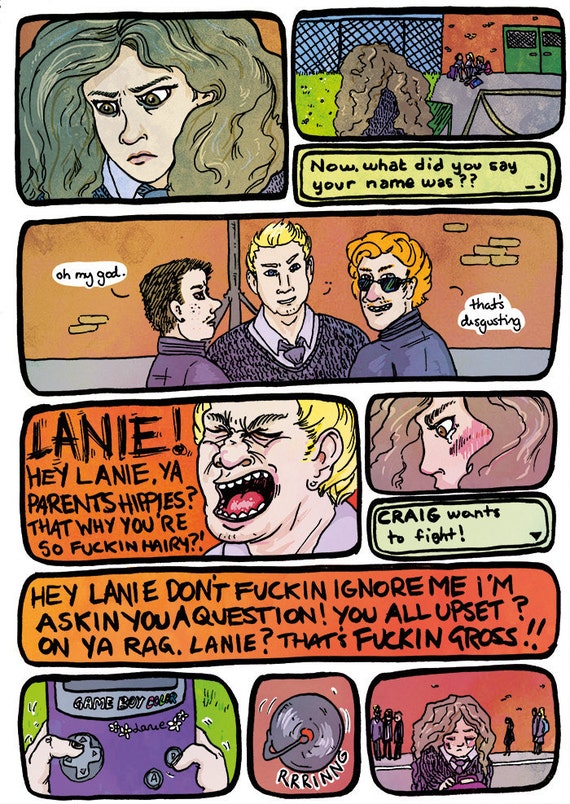 Favorite inspiration, collaborators, other professionals you've worked with if any?
I'm super lucky in that I have this huge, thriving local community, and it's full of people I adore! I get inspiration from a lot of things but nothing beats feeling motivated by those folks. Alex E. Clark, Emily Never,
Clea Chiller
,
Jess Parker
– they're all just down the road from me and they're ridiculous, amazing, prolific people. A little further out from my neighborhood-
Savanna Ganucheau
,
Alisha Jade
;
Gianna Meola
, Emma Ríos, Sana Takeda, Stephanie Hans, Becky Cloonan, amazing artists. Kelly Sue DeConnick and Lin-Manuel Miranda deliver a lot of words of wisdom (and under-butt firelighting). Outside of that, I kind of hoard trinkets and postcards at my desk, little toys and artbooks and things. I like occult junk, sci-fi, mid-century advertising, punk rock, 90s garbage. Lots of everything.
Anyone you'd like to collaborate with some day? Why?
Creatively I'm a bit of a hermit- I'm only just getting used to collaborating with people. Not to say it isn't fun (because so far it's been a trip!), I'm just used to doing things by myself. I don't know if my style lends itself to any of the comics writers I'd want to draw for! Maybe a band or a singer. Wolf-Face, Deftones or Alanis Morissette.
Favorite genre to read? To work in? Are there any you won't work in?
With comics, I like (literally) punchy superhero stuff, adventure and espionage stuff, sci-fi and fantasy that isn't afraid to differ from the usual straight-white-man-does-a-thing narrative. Weird fiction is probably my favourite genre, things just being a little bit left-of-centre of reality. I don't think there's necessarily any genre I wouldn't work in, but I'm not very good at drawing vehicles. No Transformers for me!
Have you ever faced adversity/discouragement for being a woman in your field? How did you overcome it? 
I'm really lucky in that I kind of broke through into making comics during a very visible turning point. I'm also really lucky to be blessed with a very strong, passionate, local community of women creators. Not everyone gets dealt that kind of hand, and it can be very alienating. I read a lot of horror stories about the way women are treated across the board and it just makes me want to work harder. There's a Women In Comics group I'm part of on Facebook and a lot of the time it's just men talking about stuff- getting talked over in your own little online spaces, even when it's not aggressive behaviour, it's still pervasive. I feel like it derails the bigger conversation. There's a huge, vibrant international community of women creators that deserves a lot more attention, I think  a lot of us are sick of waiting for attitudes to change.
Coolest moment you've had as a creator? 
Any time "important" people like my tweets… I'll say something stupid and then get a little heart pop up from someone I like and it gives me the warm-and-fuzzies! Getting invited to be part of the
Festival of the Photocopier
program this year was kind of amazing.
Sticky Institute
are fantastic people, I kind of had stars in my eyes the whole time. Gerald Parel told me I had great composition skills once. His Marvel covers are a thing of beauty. I'm not great at receiving praise, but that was awesome.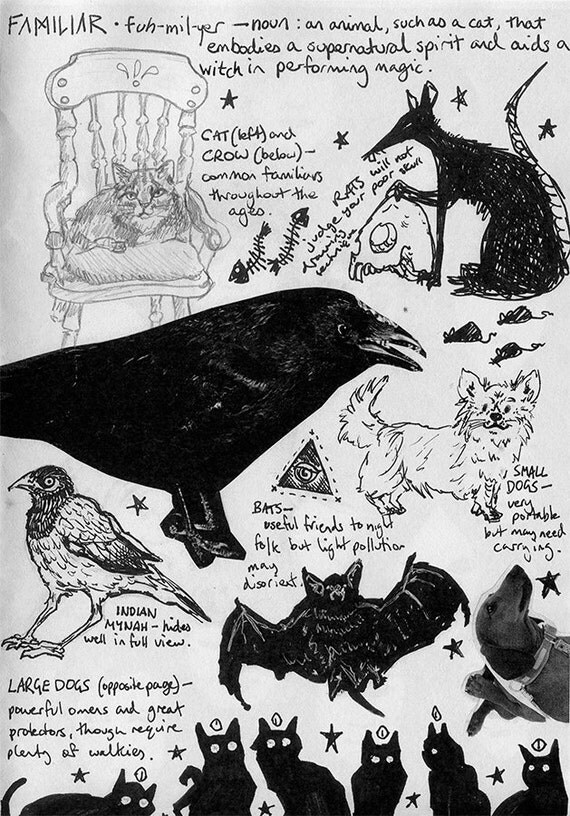 How do you think the current comics industry is toward women? What can we do to improve it further and create a safe space?
I think people are starting to look more towards indies and self-published books, now that it's socially acceptable to like comics and, I dunno, not get your head shoved in a locker, or have people insist on calling any book with pictures for adults a 'graphic novel'. On the other hand, you have a lot of guys that get so bogged down in their own personal brand of comics nostalgia that they're not willing to change things. I think you'd have to do a big shakedown to make things better in the long run. A lot of the machinery of the industry is above my head but I feel like indies offer a more even playing field than the Big Two/Diamond Distribution… thing.
Who are some of your favorite/most inspirational

female

characters to read? What about in other media (novels, TV, movies, pop culture)? Why?
Carol Danvers, in any iteration. She-Hulk, basically everyone from Love and Rockets and Bitch Planet, Xena, Lagertha from Vikings, Leia Organa, Ellen Ripley, any character Michelle Rodriguez has played… I see a trend of "bitches get shit done" there, haha.
What do comics mean to you?
Getting really mad at having to draw the same thing a hundred times and loving it anyway.
Advice to other

female

creators in the field? 
Find your girls. For reals, seek out other women, make friends, collaborate, chat, whatever it takes. You will be better off for it!
What are you currently reading?
I'm really behind right now but I have a good stack of quality books waiting for me. A lot of the Image Comics greatest hits like Bitch Planet, Saga, Sex Criminals, Pretty Deadly et cetera; the Dragon Age: Magekiller miniseries; Ms. and Captain Marvel, Spider-Woman. Space stuff, fantasy stuff, women punching things. I feel like that covers the majority of my interests, hahaha!